For those who want to play any game from Nintendo NES to N64 or SEGA Game Gear to Genesis or even PlayStation, there are pretty affordable, or sometimes free apk download, emulators that are available for Android users in the market now. They are accessible for your use anytime you feel like playing an older game system.
However, be prepared to deal with some problems regarding Android's physical controls as you may not get as much precission as you would wish to have. You may use the phone's virtual controls but using its bluetooth control pad, such as what is used in Game Gripper or WiiMote, also helps for a more satisfactory and accurate control too.
List of best available Android Emulators psx4droid, SNESoid, Gensoid, NESoid, GBAoid, Game Boy Color Emulator- Marvin (Sinclair ZX Spectrum), Mobile C64, UAE4droid (Amiga) and more.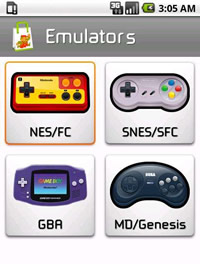 Most Android emulators can be used for the said controls, with some even supporting WiiMote for your game controls, referring to the use of the buttons and the D-pad. However, you may want to read more reviews about the Android Market first to confirm these things.
If you are more interested in emulation than other gamers and see it more than just a hobby, you may want to consider Xperia Play mobile from Sony. It is quite popular for the fans of emulation because of its slide-out control pad, a classy feature for gamers.
We have a simple manual on how emulators can be downloaded and saved on Xperia Play or basically any other Android phone.
With the help of the said Android phone, you can use emulators without a hitch. If you don't want to be associated with bad pirates, there are real PS1 releases that are available in any Sony Store.
(Note: You are responsible for anything that you decide to after reading all these instructions on how you can enjoy emulators.)
If you want to know more about the top ten emulators and some pointers on how you can use them to play your favourite old Sony games, continue reading this guide from Pocket Gamer then. This guide can also give you a heads up about what games would be best played using certain emulators.
SNESoid - Super Nintendo Android Emulator
If you compare the hardware of the games of today to those of the 16-bit zone, it is quite easy to see how you have changed a lot for the better. In the past decades, graphics are still developing though they no longer have their somehow appealing low pixel count. Once you use the emulator, it does not have any problem with the games though you can see the scaled resolution to accommodate the landscape or portrait mode. The games are fun due to their responsive controls and good music.
Those who are curious about the emulator may also experiment with graphics options, cheats, and control pad layouts, along with the use of Bluetooth control pads. This emulator even allows net play through local Bluetooth or WiFi.
NESoid - Classic Nintendo 8-bit NES Android Emulator
A generation ago, minus eight bits, NES was introduced and it revolutionized the gaming world.
NES was used as the tool that delivered Mario Bros. (or called "Jump Man" because the game is all about avoiding the barrel attacks thrown by Donkey Kong) as well as The Legend of Zelda. These are already classic games. The games have low-pixel counts, causing them to look chunky and messy. But despite this, they still have an impressive set of features, including their chip-tune audio, gameplay and level design.
These games do not need a lot of emulation work, but they still delivered in terms of performance. The menu also stayed as it is. Basically, the options are unchanging, though some games like Punch Out, require "Accurate Rendering" to open them.